Talia Mashiach | CEO, Founder and Product Architect at Eved: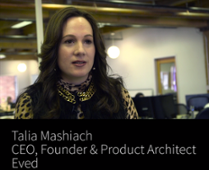 There's over $500 billion dollars that are spent on meetings and events by large corporations, and there's little to no visibility for these corporations to know what this money is being spent on. To not have that visibility, to not know what you're truly spending and to not have the granularity, that's just a huge problem.
Jeanne Trogan | Executive Director of Global Events at Dell:
We were losing track of money and spend, it was falling through the cracks. Quite frankly, the biggest consequence of that is that we weren't running our annual budgets very well. Secondly, our event managers were spending way too much time on manual processes and working across multiple tools.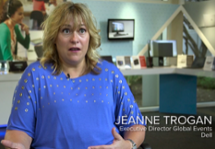 Talia:
What Eved really does is the actual ordering, invoicing and payment process which happens on our platform. We are creating event commerce as a category, the automation of buying and selling of meetings and events.
I saw this opportunity to be able to automate the workflow within the planning process so that therefore you create the efficiencies, you also get the visibility into the data and you create compliance around a process.
Jeanne:
Having visibility to where we're spending and with whom we're spending has allowed us to consolidate those investments with certain vendors. Which in turn gives us volume discounts, which in terms gives us bang for our buck. That's incredibly important in an era where just about every company is expected to do more with less, and because of Eved, we're actually able to do that.
Talia:
Dell really partnered with us to let us come in and understand what their problems were, so that we could really figure out how to solve them. We wound up with a product that is solving a problem not just for Dell, but for all these other customers as well.
J.B. Pritzker | Managing Partner at Pritzker Group Venture Capital:
Entrepreneurs need someone to take a chance on them and Dell was willing to do that. Their reason to partner with Eved is the same reason we choose to invest in Eved and that's Talia's qualities and the fact that Eved has built technology that's enormously meaningful to large enterprises.  
Jeanne:
Specifically in the case of Eved, it really worked out that a woman owned business had the best idea and solution, and both Dell and Eved are winning because of that partnership.